Mercedes-Benz of Athens Star Treatment Program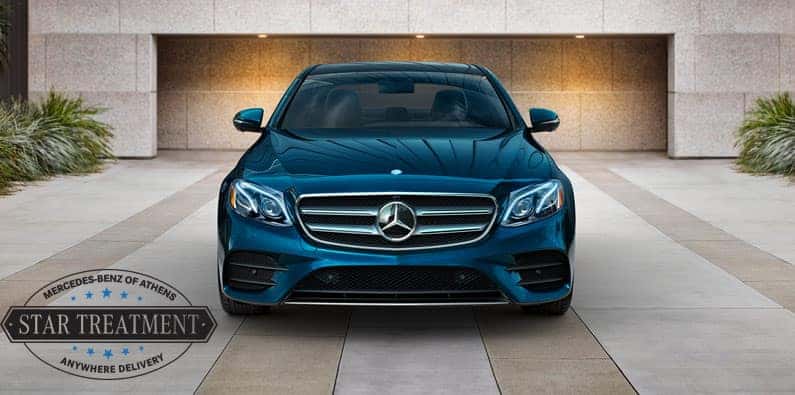 If you are like most people, then you do not really enjoy the process of buying a car. While taking a look at all of the available models and test driving them is fun, you still have to do things like compare financing, deal with salesmen trying to upsell you, and much more. This is not the best way to buy a car. Mercedes-Benz of Athens now offers an Express car buying service and it is a completely new way to buy a car. To take advantage of this, all you have to do is visit our express store. We offer things such as instant upfront pricing so there is never a guess when it comes to the cost, delivery of your new car, comparing lease and finance rates, and you can do all of this without ever walking into the dealership.
With all of this comes star treatment so you get everything you could ever want out of the experience and then some. Our perks include:
The Guaranteed Best Value – There is a lot of work that goes into comparing cars and we do all of this hard work for you. We compare and contrast all of the cars you are interested in to find the best value for your money. We take a look at things such as the mileage, options available, the color, and the warranty. Once we compare all of these items, we will then offer you a price that won't be beaten within 200 miles and we guarantee it.
Simply Secure – The waiting process can be grueling and the paperwork part of buying a car can take so long. We have simplified the process for you so that you do not have to wait long at all. Through this service, you will send use all of your information securely and ahead of time. We will then make sure that everything is ready when you arrive, including all paperwork and your car. We can even send it to you before you come in.
Anywhere Delivery – Mercedes-Benz of Athens is here to provide you the best service possible. We take our legendary service and make it even better. We will deliver your new car to the location of your choosing and it is completely free within 400 miles. If you need it delivered somewhere that is more than 400 miles away, your first 400 are free and then you can determine the price for the additional miles based on our simple chart. No more guesswork and no need to take time out of your busy day to buy your car.
One Week Exchange Policy – We want you to be overjoyed with your purchase but if at any time during the first week you decide that you do not love it, then all you have to do is let us know and we will exchange it for one that will make you happiest.
Star Treatment For Life – Once you buy from us, you will have access to all kinds of benefits including online scheduling for service, complimentary pick-up and delivery of your car, and even complimentary loaner cars during the service. Every interaction you have with us will be as simple, easy, and time-conscious as possible.
Visit us at Mercedes-Benz of Athens to learn more.